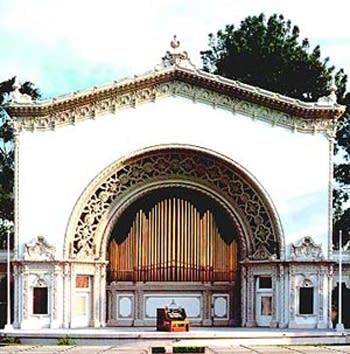 May 31, 1999
Summertime Specials #9922
Highlighting activities at San Diego's Balboa Park, the Methuen Music Hall in Massachusetts, and the Wanamaker Grand Court at Macy's Center City Department Store in Philadelphia.
ROBERT ELMORE: Fantasy on Nursery Tunes ALBINONI (arranged by Giazotto): Adagio in g CAMILLE SAINT-SAËNS: Marche Heroique SCOTT JOPLIN: Maple Leaf Rag –Robert Plimpton (1915 Austin/Spreckels Organ Pavilion, Balboa Park, San Diego, CA)
The historic Spreckels Organ is played every Sunday afternoon at 2PM. Summer evening recitals begin at 8PM on Mondays from mid-June through August.
MAX REGER: Symphonic Fantasy & Fugue, Opus 57, Inferno –Stefan Kozinski (1863 E.F. Walcker; 1947 Aeolian-Skinner/Methuen Music Hall, Methuen, MA) GM CD-2064
Methuen recitals run from May 26 through September 1 on Wednesday evenings at 8 o'clock.
OLIPHANT CHUCKERBUTTY: Fanfare. SIR EDWARD ELGAR: Imperial March; Nimrod, from Enigma Variations –Peter Richard Conte.
TRADITIONAL: Ocean Grove Auditorium Usher's March –Scott Foppiano
ROBERT HEBBLE: Londonderry Air –Peter Richard Conte
HENRI MULET: Toccata, Tu es petra, from Byzantine Sketches –Ken Cowan (1911 Wanamaker/Grand Court, Macy's Center City, Philadelphia, PA)
Peter Conte, Scott Foppiano and Kenneth Cowan were recorded in recital on the world's largest functioning pipe organ of 451 stops and nearly 29,000 pipes for Pipedreams July 3, 1996 and June 6, 1998. The instrument will be featured in a special Organ Day celebration on June 12. For information visit Friends of the Wanamaker Organ.