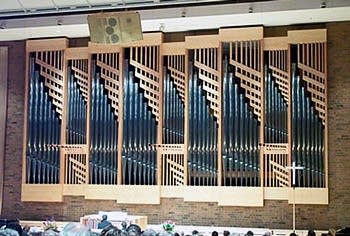 September 8, 2003
Saved by Grace #0336
The organist of Notre Dame Cathedral played its inaugural recital back in 1927 but that wasn't enough to guarantee this instrument a long and happy life. At least not in its original location. Forlorn and nearly forgotten in storage for 16 years, this vintage Casavant organ with 7000 pipes has been reborn as the musical centerpiece of a new church sanctuary in Mahtomedi, Minnesota. Bill Chouinard, the prime mover behind its renewal at Saint Andrew's Lutheran, tells the story and demonstrates the instrument's remarkable range of color and dynamics in selections from Bach to Broadway. Once a mute memory, these grand sounds were Saved By Grace.
SIGFRID KARG-ELERT: Chorale-Improvisation, Nun danket alle Gott, Opus 65
J.S. BACH: Prelude in b, S. 544
SIR EDWARD ELGAR: Nimrod, from Enigma Variations
HEALEY WILLAN: Introduction, Passacaglia and Fugue
ANDREW LLOYD WEBBER: Phantom of the Opera Suite
LOUIS VIERNE: Clair de lune, from Fantasy Pieces, Opus 53
JOHN PHILIP SOUSA: Stars and Stripes Forever
Performances and comments feature resident musician William Chouinard playing a (1927 Casavant Frères; 2001 Schantz/St. Andrew Lutheran, Mahtomedi, MN) now at St. Andrew Lutheran, Mantomedi, MN. This instrument, inaugurated by none other than Louis Vierne, was installed originally at Phillips Academy in Andover, MA. In the 1970s, the school replaced its huge Casavant with another, smaller, more 'classical' pipe organ. The old instrument was sold and removed to tenuous storage for the next sixteen years. Rescued from limbo by the Saint Andrew's music committee and given new wind chests and mechanism by the Schantz Organ Company, the Casavant pipework remains essentially intact and unaltered and now enjoys its 'second coming' in a contemporary worship space designed specifically to accommodate a truly remarkable and resilient instrument. The parish loves it, and so will you!
Pipedreams Archive recorded February 4, 2002 and February 10, 2003