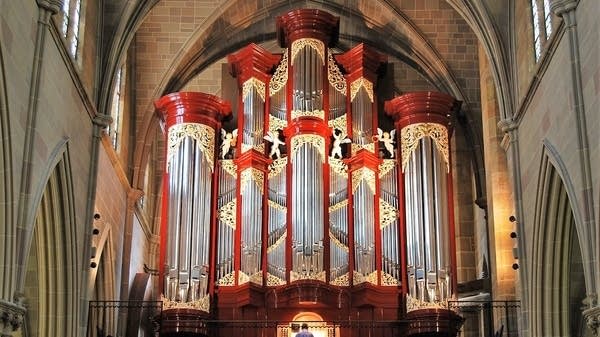 January 7, 2008
New Organs in the New Year (Part 1) #0801
…the first of several surveys of recent instruments in Texas, Tennessee, New Jersey and Ohio, a testament to the pipe organ's continued vitality.
Part 1
JEAN LANGLAIS: Fete. DIETERICH BUXTEHUDE: Ciacona in e. CÉSAR FRANCK: Cantabile in b. ZSOLT GÁRDONYI: Mozart Changes –Mariko Morita (2006 Kegg/Texas A&M International University, Laredo, TX) recorded November 06 & March 10, 2007
Part 2
JOHANN CHRISTOPH OLEY: Chorale-prelude, Werde munter, mein Gemüte –John Brock, organ. GOTTFRIED AUGUST HOMILIUS: Chorale-prelude, Jesu, meine Zuversicht. JOHANN CHRISTIAN KITTEL: Preludes in E-flat: Number 7 & Number 8 –David Higgs, organ. ROBERT SCHUMANN: Fugue on B-A-C-H, Opus 60, number 1 –Peter Sykes, organ. FELIX MENDELSSOHN: Prelude in c; Fugue in e –Jon Laukvik (2007 Richards, Fowkes/Cox Auditorium, University of Tennessee, Knoxville, TN)
These performances were recorded during an American Guild of Organists National Conference on Organ Pedagogy, exploring Organ Music in the Century after Bach, recorded February 14–17, 2007.
Part 3
TRADITIONAL: Hymn, Now thank we all. WILLIAM BOLCOM: Gospel Prelude Number 1, What a friend we have in Jesus. CHARLES-MARIE WIDOR: Andante cantabile, from Organ Symphony Number 8, Opus 42, number 4. CRAIG PHILLIPS: Toccata on Hyfrydol, premiere –Catherine Rodland (2007 Nichols & Simpson/West Side Presbyterian, Ridgewood, NJ) recorded October 7, 2007
J.S. BACH: Fugue in E-flat, S. 552 –Douglas Cleveland (2006 Fritts/Cathedral of St. Joseph, Columbus, OH) Loft LRCD-1098
Filler –GERRE HANCOCK: Laredo Fanfare –David Heller (2006 Kegg/Texas A&M International University, Laredo, TX) Pro Organo CD 7218
The majority of music here is derived from concert tapes. A recording by David Heller on the new Kegg organ in Laredo is available from Pro Organo CD 7218.