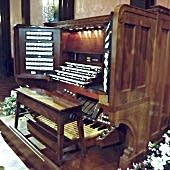 May 7, 2012
Longwood Revisited #1219
…after a meticulous multi-year restoration, the 10,000-pipes of the 1930 Aeolian organ in the conservatory ballroom at the former Pierre du Pont estate in Kennett Square, Pennsylvania sound more magnificent than ever.
Hour 1
VICTOR HERBERT: American Fantasy
FIRMIN SWINNEN: Aria
DAVID ROSE: Holiday for Strings Michael Stairs. DTR 8605
SAMUEL BARBER: To Longwood Gardens
FIRMIN SWINNEN: The Storm, improvisation Firmin Swinnen, via organ-roll
MARCEL DUPRÉ: Variations on a Noël, Opus 20
Hour 2
R. BARTHELEMY (arranged by Swinnen): Caressing Butterfly, from The Motion Picture Organist Justin Hartz, organist. Pro Organo 7024
ROBERT ELMORE: Fantasy on Nursery Tunes
RICHARD WAGNER (arranged by Gibson-Lemare-Conte): Liebestod, from Tristan und Isolde
FIRMIN SWINNEN: Longwood Sketches: In the shadow of the old trees; Rosebuds; Dewdrops; Sunshine
RICHARD STRAUSS (arranged by Conte): Love Trio, from Der Rosenkavalier
Unless otherwise indicated, Peter Richard Conteplays all selections in the context of this broadcast, and appears in a Friday evening concert in the Longwood Ballroom on May 11, 2012, showcasing the world's largest private residence organ. During the summer months, the Aeolian pipe organ is heard in automated organ demonstrations (self-playing) nearly every day at 11:30 a.m. and 1:30 p.m., and major organ recital events resume come autumn. Plan ahead to attend the first Longwood Gardens International Organ Competition, which takes place June 18-23, 2013.