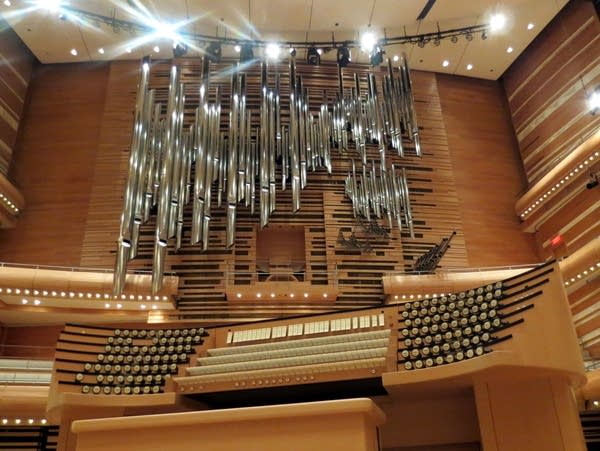 October 4, 2021
From the Canadian International Organ Competition #2140
. . . highlights from the 2017 event, recorded at Notre-Dame Basilica and the Maison Symphonique in Montreal.
Hour One
FELIX MENDELSSOHN:  Overture to St. Paul.  OLIVIER MESSIAEN:  Sortie, fr Messe de la Pentecote –Nicholas Capozzolli (3rd Prize)
CHARLES-MARIE WIDOR:  Allegro vivace (i.), fr Symphony No. 5, Op. 42, no. 1 –Oliver Brett (2nd Prize)
ALCEE CHRISS III:  Rhapsody after Art Tatum.  EDWARD ELGAR:  Andante espressivo (iii.), fr Organ Sonata, Op. 78.  RICHARD WAGNER (arr. Lemare/Chriss):  Ride of the Valkyries, fr Die Walküre –Alcee Chriss (1st Prize)
Filler – MESSIAEN:  Communion (see above)
Performances in this hour were recorded during the 2017 post-competition gala concert, featuring the Casavant organ in Montreal's Maison Symphonique (r. 10/21/17)
Hour Two
J. S. BACH:  Fantasy in g, BWV 542 –Yuan Shen (2012 Casavant/Kennedy Center, Washington, DC) Raven 141 (Audience Prize)
JEANNE DEMESSIEUX:  Etude in Sixths.  SERGEI RACHMANINOFF (trans. Chriss):  Non-Allegro (i.), fr Symphonic Dances, Op. 45.  ALCEE CHRISS III:  Homamage a Jean Guillou –Alcee Chriss (Maison Symphonique) ATMA 2782
MARCEL DUPRÉ:  Preludio, fr Symphony No. 2. Op. 26.  MAURICE DURUFLÉ:  Toccata, fr Suite, Op. 5 –Alcee Chriss (1891 Casavant/Notre Dame Basilica, Montreal) (r. 10/20/17)
Filler – WAGNER (see above)
Featured performers were the top prize-winners of the Canadian International Organ Competition in 2017.  Following a COVID-necessitated pause, the CIOC in 2021 is back on track with events in and around Montreal… two semi-final rounds at Immaculée Conception Church (October 14-15) and Saint-Jean-Baptiste Church (October 18-19), the finals at the Maison Symphonique (October 22), a gala concert at Saints-Anges Church in Lachine (October 24), and multiple concerts or master-classes by jury members throughout the festival week:  Martin Baker (10/13), William Porter and Louis Robilliard (10/16), Dong-Ill Shin (10/17), Helga Schauerte-Maubouet (10/20), Rachel Laurin (10/23) and Bernard Foccroulle (10/24).
This broadcast is dedicated to the memory of Noël Spinelli (1927-2020), dynamic and generous entrepreneur and enthusiastic supporter of the CIOC.
Continuing support of PIPEDREAMS is provided in loving memory of Wesley and Lucinda Dudley by their family, with additional support from Walter McCarthy, Clara Ueland, and the Greystone Foundation, by Jan Kirchner on behalf of her family foundation, by the Art and Martha Kaemmer Fund of the HRK Foundation, in celebration of the life of Martha Hulings Kaemmer, and by listener-contributors to this public radio station. Additional support comes from Letourneau Organs Ltd. of St. Hyacinthe, Quebec, and Muller Pipe Organ Company of Croton, OH, members of APOBA, the Associated Pipe Organ Builders of America, a collaborative of designers, creators, and maintainers of pipe organs found in religious and educational institutions, concert halls, and residences throughout the United States and beyond. An APOBA resource guide and member prospectus is available at APOBA.COM.