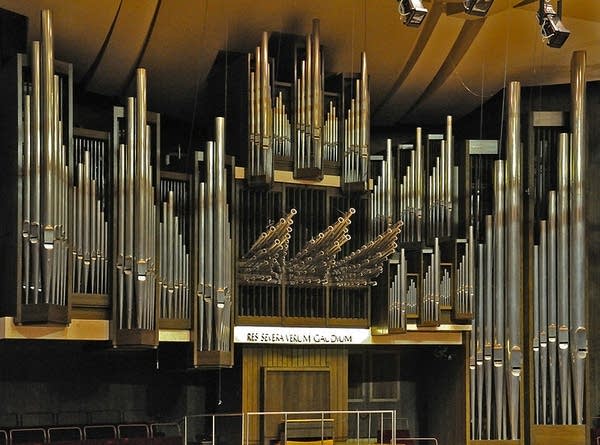 November 15, 2021
With Orchestra #2146
. . . whether with strings alone, or with chamber-sized or symphonic ensembles, nothing enhances the sound of a pipe organ better. 
Hour One
W. A. MOZART:  Church Sonata in G, K. 241 –Salzburg Camerata Academica/Bernhard Paumgartner; E. Power Biggs (1924 Muracher/Salzburg Cathedral, Austria) Columbia K3L-231
G. F. HANDEL:  Organ Concerto in g, Op. 4, no. 1 –London Philharmonic/Sir Adrian Boult; E. Power Biggs (1749 Parker, built for Handel's librettist Charles Jennens/Great Packington Church, England) CBS 45825
JOSEF RHEINBERGER:  Organ Concerto No. 2 in g, Op. 177 –Columbia Symphony/Maurice Peress; E. Power Biggs (1958 Möller/St. George's Episcopal Church, New York, NY) Dutton 7334
Filler - HANDEL (second movement, see above)
Hour Two
ANTONIO VIVALDI:  Concerto for Violin, Cello, Organ and Strings, RV 554 –J.C. Bach Akademie; Johannes Geffert (Klais chamber organ) Fermate 200002
WALTER PISTON:  Prelude & Allegro for Organ and Strings –Butler School Ensemble/Stefan Sanders; Mario Benavides (1981 Visser-Rowland/Bates Recital Hall, University of Texas, Austin, TX) PD Archive (r. 3/24/2010).  A commercial release of this piece, featuring soloist David Shrader, is available from Cedille Records.
ALEXANDRE GUILMANT:  Final alla Schumann, Op. 83 –Leipzig Radio Orchestra/Horst Neumann; Felix Friedrich (1982 A. Schuke/Gewandhaus, Leipzig, Germany) Querstand 9601
DAN LOCKLAIR:  Concerto for Organ and Orchestra (2010) –Slovak National Symphony Orchestra/Michael Rohác; Peter Mikula (1984 Rieger-Kloss/Slovak Radio Concert Hall, Bratislava, Slovakia) Naxos 8.559860
Filler – RHEINBERGER (third movement, see above)
Continuing support of PIPEDREAMS is provided in loving memory of Wesley and Lucinda Dudley by their family, with additional support from Walter McCarthy, Clara Ueland, and the Greystone Foundation, by Jan Kirchner on behalf of her family foundation, by the Art and Martha Kaemmer Fund of the HRK Foundation, in celebration of the life of Martha Hulings Kaemmer, and by listener-contributors to this public radio station. Additional support comes from the A. Thompson-Allen Company of New Haven, CT, and the Andover Organ Company of Methuen, MA, members of APOBA, the Associated Pipe Organ Builders of America, a collaborative of designers, creators, and maintainers of pipe organs found in religious and educational institutions, concert halls, and residences throughout the United States and beyond. An APOBA resource guide and member prospectus is available at APOBA.COM.