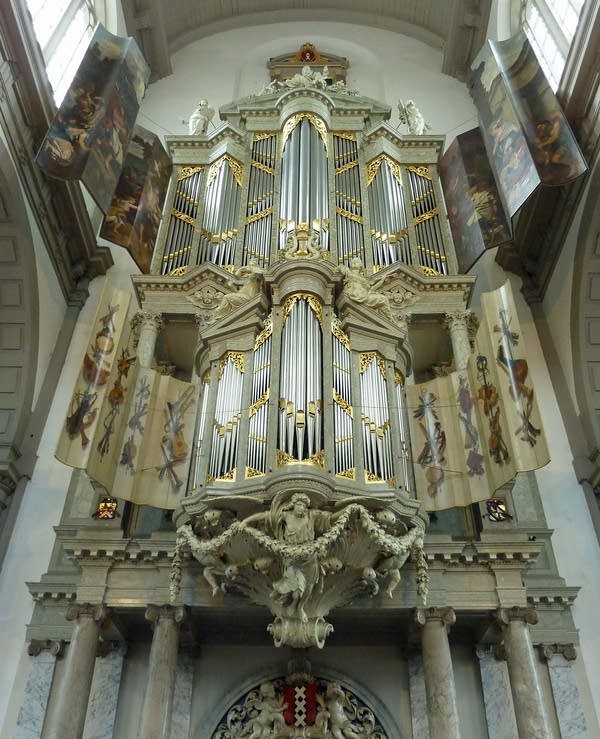 October 16, 2023
In a Folksy Mood #2342
. . . sometimes the old tunes provide the best ideas for new music.
Hour 1
DENIS BEDARD:  Variations on Amazing Grace –Simon Earl (1999 Nicholson/Christchurch Priory, England) Priory 1209
HANS HEINRICH LÜDERS (attrib.):  Cantio rustica Americana –Harald Vogel (1999 Fritts/Ascension Episcopal Church, Seattle, WA) ReZound 5001
ROBERT HEBBLE (arr.):  Londonderry Air (Homage to Fritz Kreisler) –Paul Danilewski (1930 Aeolian/Longwood Gardens, Kennet Square, PA) DTR 8207.  Hebble's version was directly inspired by an arrangement and 1926 recording by the great violinist Fritz Kreisler.
RALPH VAUGHAN WILLIAMS:  2 Preludes on Welsh Folk Songs (The White Rock; St. David's Day) –Christopher Nickol (1923 Harrison/Caird Hall, Dundee, Scotland) Priory 537
HENNING SOMMERRO:  2 Norwegian Religious Folk Songs –Kåre Aambø, oboe; Per Fridtjov Bonsaksen (1962 Steinmeyer/Nidaros Cathedral, Norway) Pro Musica 9028
TRADITIONAL (arr. Asheim): 2 Norwegian Folksongs (Som dend Gyldne Sool/Like the rising sun & Et lidet Barn saa lysteligt/A little child so joyful) –Anne-Lise Berntsen, vocals; Nils Henrik Asheim (1787 Holzhey/Weissenau Cloister, Germany) Kirkelig Kulturverkstad 136
ANTHONY BALDWIN:  Variations on Kelvingrove –Kevin Bowyer (1927 Willis-2005 Harrison/Memorial Church, Glasgow University, Scotland) Priory 1215
Filler – LÜDERS (see above)
Hour 2
HARRY BANKS:  Imaginary Folk Song –Harry Wilkinson (1933 Skinner/Girard College, Philadelphia, PA) Pro Organo 7144
JACOB BIJSTER:  Variations on an Old Netherlands Song (Ich wil mij gaen verfroosten) –Dirk Donker (1711 Schnitger-1898 van Dam/Martinikerk, Sneek, Netherlands) JQZ 3051
LUKAS ARVIDSSON:  Snön faller.  HANS RÖJÅS: Bridal March from Väddo –Greger Siljebo, violin; Lukas Arvidsson (1806 Schiörlin/Parish Church, Gammalkil, Sweden) Orgelisten Uppland 2021 
JOS VAN DER KOY:  Improvisations on 3 Dutch Folksongs (Wed Anne Marieken; Daar was een sneeuwit vopgeltje; Zeg kewzeltje, wildet gij dansen) –Jos van der Kooy (1963 Flentrop/Westerkerk, Amsterdam, Netherlands) DVH 140028
PIERRE COCHEREAU (trans. Lombard):  Variations on Frere Jacques –Anthony Hammond (1969 Walker-2002 Wood/Blackburn Cathedral, England) Priory 1026
Filler – BACH (see above)
PIPEDREAMS is supported by the generosity of Mr. & Mrs. Wesley C. Dudley, by grants from Walter McCarthy, Clara Ueland, and the Greystone Foundation, the Art and Martha Kaemmer Fund of the HRK Foundation, Jan Kirchner on behalf of her family foundation, and by listener-contributors to this public radio station.  Additional support comes from Quimby Pipe Organs, Inc. of Warrensburg, MO, and Schoenstein & Company Pipe Organ Builders of Benecia, CA, members of APOBA, the Associated Pipe Organ Builders of America, a collaborative of designers, creators, and maintainers of pipe organs found in religious and educational institutions, concert halls, and residences throughout the United States and beyond.  A resource guide and member prospectus is available at APOBA.COM.