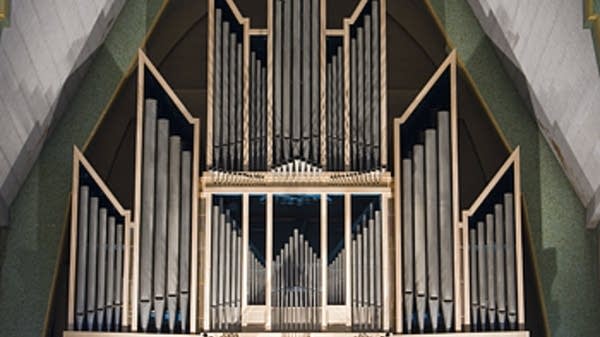 April 10, 2000
The Stations of the Cross #0015
a profound reflection upon the saga of Christ's crucifixion, a progression through fourteen poems by Paul Claudel with originally-improvised musical commentary by Marcel Dupré.
Individual movements are drawn from the following various recordings:
Station Number 1, Jesus is condemned to death; Station Number 2, Jesus receives his cross –Françoise Renet (1889 Cavaillé-Coll/Basilique Saint-Sernin, Toulouse, France) Festivo FECD-105
Station Number 3, Jesus falls the first time; Station Number 4, Jesus meets his mother –Catherine Combier Donovan, narrator; Father Francis Kline (1985 Bedient/Cathedral of Saint John the Baptist, Charleston, SC) Mepkin CD-1001
Station Number 5, Simon the Cyrene helps Jesus to carry the cross –Jean Marchand, narrator; Jacquelin Rochette (1963 Casavant Frères/Basilique Notre-Dame-du-Cap, Cap-de-la-Madeleine, Québec, Canada) REM CD-311174
Station Number 6, A devout woman wipes the face of Jesus; Station Number 7, Jesus falls to the ground a second time –Stephen Hamilton (1928 Welte; 1964 Möller; 1983 Gould & Sons/Episcopal Cathedral of St. Mark, Minneapolis, MN) Arkay AR6115
Station Number 8, Jesus comforts the women of Jerusalem –Marcel Dupré (1862 Cavaillé-Coll/Église Saint-Sulpice, Paris, France) Westminster LP-18916
Station Number 9, Jesus falls a third time –Clarence Watters (1971 Austin/Trinity College Chapel, Hartford, CT) AFKA SK-508
Station Number 10, Jesus is stripped of his garments; Station Number 11, Jesus is nailed to the cross –Claribel Baird, narrator; Marilyn Mason (1964 Möller; 2001 Goulding & Wood/National Shrine of the Immaculate Conception, Washington, DC) Mark Cassette CS-86102
Station Number 12, Jesus dies upon the cross; Station Number 13, The body of Jesus is taken from the cross –Harald Feller (1990 Jann/Waldsassen Basilica, Germany) Calig CD-50959
Station Number 14, The body of Jesus is laid in the tomb –Barry Busse, narrator; Douglas Butler (1961 Holtkamp/St. John Abbey, Collegeville, MN) American Public Media recording
English translations of the Claudel texts, made by Catherine Combier Donovan, Peter Robinson, Gale Kramer, and Judith Schweiss, will be interpolated prior to each movement of Dupré's score, read primarily by Ms. Donovan and Barry Busse but otherwise as listed.