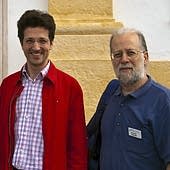 October 26, 2009
Austria Revisited #0943
…some musical memories featuring artists and instruments enjoyed during the 2009 Pipedreams Tour.
Hour 1
JOHANN JACOB FROBERGER: Toccata in G. JOHANN KASPAR KERLL: Magnificat Quarti Toni, from Modulatio Organica, alternatim –Jeremy Joseph (1642 Freundt/Klosterneuburg Abbey, Austria) NCA 60207
HANS NEUSIDLER: Judentantz. PAUL HOFHAIMER: Carmen. HENRICUS BEGINKER: Dies est laetitiae –Marcus Hufnagl (1640 Anonymous/St. Michael in der Wachau, Austria) EWSM 2000
GIROLAMO FRESCOBALDI: Aria detto Balletto –Emanuel Schmelzer-Ziringer (2004 Vonbank/Pfarrekirche, Michelhausen, Austria) Extraplatte 634
GEORG MUFFAT: Toccata Septima –Wolfgang Kogert (1714 Sieber/Michaelerkirche, Vienna, Austria) NCA 60206
ANTON HEILLER: Tanz-Toccata –Ronald Peter (1986 Hradetzky/Stadtpfarrkirche, Krems, Austria) Kirchen Tonart Krems 2004
JOSEF RHEINBERGER: Vision, Opus 156, number 5 –Ronald Peter (1875 Capek/Piaristenkirche, Krems, Austria) Kirchen Tonart Krems 2004
PETER PLANYAVSKY: 3 Chorale-Improvisations: All Menschen müssen sterben; Mitten wir im Leben sind/Flutes; Mit Fried und Freud –Peter Planyavsky (2001 Kögler/Stadtpfarrkirche - St. Michael, Haag, Austria) Organ Promotion 7007
Filler –GEORG MUFFAT (see above)
Hour 2
J.S. BACH: Vivace, from Trio Sonata Number 2 in c, BWV 526 –Wolfgang Kreuzhuber (1968 Marcussen/Neuer Dom - St. Mary, Linz, Austria) Motette CD MOT 12521
ARTHUR PIECHLER: Italian Suite, Opus 22 –Ludwig Ruckdeschel (1981 Eisenbarth/Dom St. Stephan, Passau, Germany) Symicon 146
AURELIO BONELLI: Toccata Cleopatra. ANDREA CIMA: Canzone alla francese, La Novella –Rupert Gottfried Frieberger (1989; 1993 Reil/Stiftskirche [Collegiate Church], Schlägl, Austria) & Ingemar Melchersson (1634 Putz; 1708 Egedacher/Stiftskirche [Collegiate Church], Schlägl, Austria) Christophorus CHR 77102
JUSTIN HEINRICH KNECHT: Handstück im galanten Stil –Martin Haselböck (1746 Rummel choir organ/Stift Wilhering, Austria) Preiser 90051
ADOLF FESTL: Fugue –Elke Eckerstorfer (1884 Breinbauer gallery organ/Stift Wilhering, Austria) Preiser 91025
BALDUIN SULZER: Intonation, Opus 44 –Elke Eckerstorfer (1997 Rieger/Parish Church, Aigen im Mühlkreis, Austria) Kultur 010258
THEODOR GRÜNBERGER: Rondo for the Offertory –Kurt Neuhauser (1775 Christoph/Sonntagberg Pilgrimage Church, Austria) ORF 305
JOHANNES BRAHMS: O wie selig seid ihr doch, ihr Frommen, Opus 122, number 4 –Klaus Sonnleitner (1888 Mauracher/Parish Church, Bad Ischl, Austria) Edition Lade CD-022
FRANZ KROPFREITER: Improvisation –Franz Kropfreiter (1774 Khrismann; 1873 Mauracher; 1951 Zika/St. Florian Monastery, Austria) Organ Promotion 8001
Filler –GRÜNBERGER: (see above)
Forty-one enthusiasts traveled together in Austria in early May 2009, hearing instruments at venues between Vienna and Salzburg arranged for by our excellent guide Wolfgang Kogert. Take a look at our day-to-day diary from the trip, and view hundreds of captioned photos taken by Pipedreams Associate Producer Richard Rasch that bring the experience to vivid life. Don't miss out on the next Pipedreams Tour in 2010!