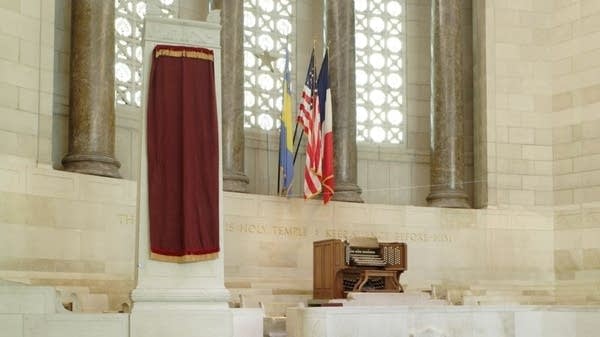 September 7, 1987
Some Women Who Cook #8736
...sizzling performances by Susan Mason, Becky Bruick, Marsha Heather Long and Diane Meredith Belcher -- artists with individual interpretive recipes.
J.S. BACH: Prelude and Fugue in G, S. 541. BACH: Trio Sonata Number 1 in E-flat, S. 525 –Susan Mason (1971 Gress-Miles/Middlebury College, Middlebury, VT)
JEANNE DEMESSIEUX: Te Deum (1959) –Becky Bruick (1969 Casavant Frères/St. John Lutheran Church, Fort Wayne, IN)
LOUIS VIERNE: Toccata in b, Op. 53, no. 6. JEAN GUILLOU: Toccata. FRANÇOIS COUPERIN: Benedictus, from Mass for Convent Use. CHARLES-MARIE WIDOR: Allegro, fr Organ Symphony No. 6, Op. 42 –Marsha Heather Long (1938 Aeolian-Skinner/St. Paul Chapel, Columbia University, New York, NY)
WIDOR: Intermezzo, from Organ Symphony No. 6, Op. 42. MAX REGER: Invocation, fr Organ Sonata No. 2, Op. 16. JOSEF RHEINBERGER:  Introduction & Fugue, from Sonata No. 8 in e, Opus 132 –Diane Meredith Belcher (1930 E.M. Skinner/Girard College Chapel, Philadelphia, PA) DTR 8303
Ms. Long's recorded performances were available from Vogt Quality Recordings and Koch International Classics. Ms. Belcher's recordings are issued by Direct-to-Tape Recording Company.