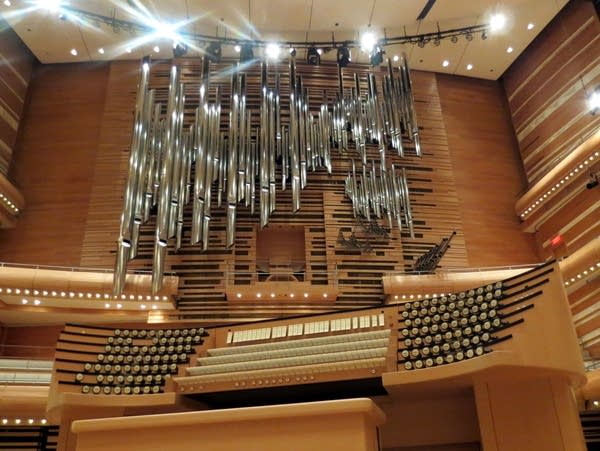 February 1, 2021
Shining a Light #2105
. . . in celebration of African-American History Month, performances and compositions by Black musicians.
Hour One
J. S. BACH:  Chorale-prelude, Nun komm, der Heiden Heiland, BWV 661 –Calvin Taylor (1964 Holtkamp/Warner Hall, Oberlin Conservatory, Oberlin, OH) PD Archive (r. 3/30/70)
CALVIN TAYLOR:  This little light of mine, fr Spirituals for Organ (1998).  TAYLOR:  Nobody knows the trouble I see, fr Spiritual Suite (2001)  –Calvin Taylor (1995 Casavant/1st Baptist Church, Bowling Green, KY) Master Disc 8413
BACH (after Vivaldi):  Organ Concerto in d, BWV 596.  ALCEE CHRISS III:  Improvisation on John Coltrane's Giant Steps.  VINCENT YOUMANS (arr. Tatum & Chriss):  Tea for Two.  RICHARD WAGNER (arr. Chriss):  Ride of the Valkyries –Alcee Chriss III (2014 Casavant/Maison Symphonique, Montreal, Quebec, Canada) ATMA Classique 2782
Filler – TAYLOR:  This little light of mine (see above)
Hour Two
SCOTT JOPLIN:  Maple Leaf Rag –Gunter Kennel (1968 Karl Schuke/Passionskirche, Berlin-Kreuzberg, Germany) ProCreatio 75951
ADOLPHUS HAILSTORK:  Prelude, fr Suite for Organ –Andrew Peters (1965-2015 Schantz/2nd Presbyterian Church, St. Louis, MO) Regent 508
FLORENCE PRICE:  Variations on a Folksong (Peter, go ring dem bells) –Calvert Johnson (1972 Harrison/Christ Church, Savannah, GA) Calcante 014
FATS WALLER:  2 Pieces (Keepin' out of mischief now & Ain't misbehavin') –Dick Hyman (Wurlitzer/Emery Theatre, Cincinnati, OH) MHS 512089
WILLIAM GRANT STILL:  Reverie –Philip Brunelle (1981 Holtkamp/Plymouth Congregational Church, Minneapolis, MN) Clarion 905
DAVID HURD:  Introduction, Fugue & Chaconne, fr Te Deum Laudamus –Bruce Neswick (1953 Aeolian-Skinner/Cathedral of St. John the Divine, New York, NY) Pro Organo 7251
SCOTT JOPLIN:  Marching Onward, fr Treemonisha –E. Power Biggs (1947 Aeolian-Skinner/Memorial Music Hall, Methuen, MA) Columbia M-34129
Filler – YOUMANS:  Tea for Two (see above)
This is the first of four programs during African American History Month that highlight the work of Black composers and performers.  Check our archive for more related content.
Continuing support of PIPEDREAMS is provided in loving memory of Wesley and Lucinda Dudley by their family, with additional support from Walter McCarthy, Clara Ueland, and the Greystone Foundation, by Jan Kirchner on behalf of her family foundation, by the Art and Martha Kaemmer Fund of the HRK Foundation, in celebration of the life of Martha Hulings Kaemmer, and by listener-contributors to this public radio station. Additional support comes from Andover Organ Company of Methuen, MA, and the Bedient Pipe Organ Company of Roca, NE, members of APOBA, the Associated Pipe Organ Builders of America, a collaborative of designers, creators, and maintainers of pipe organs found in religious and educational institutions, concert halls, and residences throughout the United States and beyond. An APOBA resource guide and member prospectus is available at APOBA.COM.